Here are some favorite pics of mine since Liam was born. Pictures say a thousand words, right? Well thank goodness cuz there isn't much to report today. AND as you can see, my grounding isn't in full force. If I get my blog posted before 7pm then we are in good shape. Tonight doesn't count cuz it's the weekend.
(click in the photos to enlarge)

He is just 4 days old in this sleepy shot. OH SO SMALL!

Liam was only a week old in this shot. Look how big my hands are in comparison to our 6 pounder. So stinkin' cute!
Now this is a timeless classic. Yes, serene sleeping, but wait, he's giving us the finger!
It was a sad day when he grew out of the crossed eyed face. He is about 3 weeks here... such a scrawny goofy baby...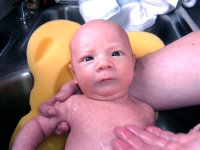 Here he is trying the johny jump for the first time (3 months) and right when I took the picture, he threw up... I had no idea until I looked up and saw the mess... and then realized it was a pretty dang cute photo!